How Technology is Revolutionizing Senior Care Sales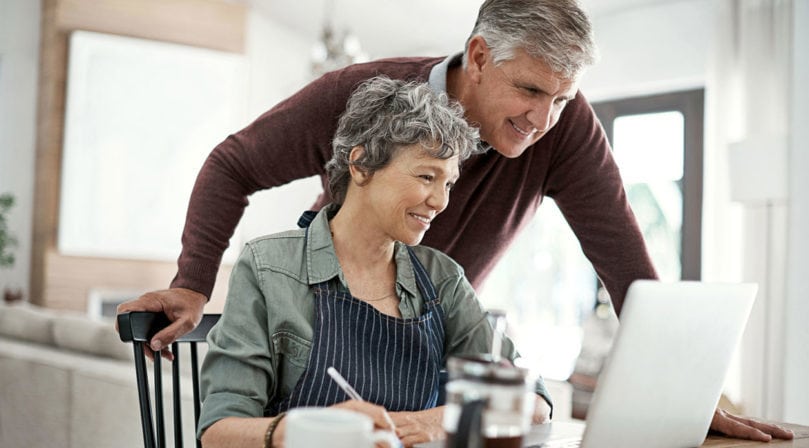 A traditional senior care sales process relied heavily on tactics like phone calls, physical brochures, and in-person tours. The traditional senior care salesperson was the gatekeeper of valuable information sought by potential buyers. Buyers had to speak to salespeople to access critical information needed to make a purchasing decision.
But in recent years, the expectations of modern buyers have changed. Unrestricted access to information and research has taken the power from the salesperson and put it in the hands of modern buyers.
Today, marketers and sales professionals should be using technology to offer up as much transparency and helpful information as possible. They shouldn't sell, but rather guide prospects in making a decision that's right for them or their loved ones.
This approach creates challenges for more traditional senior care sales organizations. In many cases, the salesperson for a senior living community is extremely busy. They're not just responsible for selling but also for marketing the community. They're conducting tours, managing social media, managing the facilities reputation, running referral programs, maintaining the website… you get the point.
So, how can senior care salespeople adapt to the needs of the modern buyer? How can they provide the helpful content buyers demand in a timely manner? What tools can they use to be more helpful while also becoming more efficient and productive?
Top Senior Care Sales Challenges
In our recently published, 2018 State of Senior Care Sales and Marketing Study, we found that senior care marketing and sales professionals face a number of challenges. The top challenges being:
Closing more leads faster (Over 50% of respondents)
Effective sales outreach (35%)
Competition (35%)
Fortunately, technology, implemented the right way, can help with overcoming these challenges.
If You're Not Already Using A CRM, You Should Be
From our research, we found that most senior care organizations are using a CRM or Customer Relationship Management platform. If you're a senior care salesperson and not using a CRM we would highly recommend starting here.
A clean database of your leads and how far along they are in the sales process should serve as the foundation of any sales organization. Beyond just organizing contacts, a CRM can show you valuable insights about which activities led to a lead becoming a customer. You can then refine your sales process over time to make it more effective.
Marketing And Sales Automation Tools To Accelerate Senior Care Sales Processes
Your CRM should be integrated closely with a marketing automation tool, like HubSpot. A marketing automation platform lets you do more with less. Among other things, it helps with automating certain senior care sales functions, like sending follow-up emails or creating tasks and reminders to keep you on track.
One of the major benefits of using an automation tool is that it can deliver helpful information to prospects automatically via email. For example, a visitor to your website might download a brochure on your community. Ideally, a sales rep would pick up the phone immediately, call the contact and try to book a tour. However – the lone rep at that community may be busy at the time. Marketing automation is here to help. The system can be configured to send an immediate follow-up email, personalized with the visitor's name and appear to be sent from the actual sales rep.
And that's just the start! Automation can then follow up with several additional emails, spaced out over the following days or weeks. Those emails can provide more information about the community and the amenities offered, helping move the visitor to a decision. The beauty here is that by planning the messaging in advance, the email correspondence always strikes the right tone and can be analyzed and improved over time.
Automation tools can even score you leads' activity so your sales team can spend their time on the most qualified leads. If a lead has opened your emails several times over the last week, visited your website frequently, and looked at a particular floor plan on your website a few minutes ago, they might be ready for a follow-up phone call. Your automation platform can assign them a high engagement score and notify you of their activity.
Maybe automation tools should be called amplification tools. By automating certain activities, these tools can amplify your capacity, which is critical in a high-touch senior care sales process where your time is limited.
Sales Enablement Technology Gives Your Senior Care Sales Team Superpowers
While marketing automation can cover some tasks automatically, priority sales opportunities require a more hands-on approach. In these cases, sales enablement technology can give your sales team superpowers.
Sales enablement tools integrate with your email inbox to make sending polished sales emails easier than ever. They let you store templates for emails you typically send. This takes care of 90% of the email composition. Salespeople can then customize the template to the needs of the individual prospect. Imagine the time savings of not having to write the same type of message over and over again!
Email "sequences" can also be set up to send a series of emails over a defined period of time. For instance, a salesperson could customize 5 emails to send out over the next 3 weeks. They then hit send and their follow-ups are all taken care of! And, if the prospect replies to one of the emails, it will stop the sequence and the salesperson can follow up manually.
Sales enablement tools can also tie into a sales rep's calendar. For example, rather than emailing back and forth to coordinate a time that works best for the prospect to come in for a tour, the prospect can book a time directly on your sales rep's calendar that works for them. This is more convenient for the prospect and saves time for the rep.
Sales reps can also see when prospects are opening their emails. Imagine sending an email to a prospect and being notified when they open it. A rep can then call at the exact right time – when the prospect is reading your emails! They'll think you're a mind reader.
Are You Leveraging Technology For Your Community?
If you're not using marketing automation and sales enablement for your senior care organization, you're really missing out. If you're already using automation tools but don't feel like you're using it to its full potential, you may not have it configured correctly.
Contact us to talk through technologies for your sales team. We're happy to help answer questions and get you started on the right foot.
Contact Us
Get senior living marketing and sales insights delivered to your inbox.